Sarajevo – Srebrenica – Stolac – Mostar
We've teamed up with independent humanitarian and travel blogger Go Global with Sibu to bring you a hybrid tour of Bosnia and Herzegovina. On this trip, you'll have the opportunity to travel around the beautiful mountainous scenery of Bosnia and visit some of the country's most famous landmarks.
However, it wouldn't be possible to visit this beautiful country without learning about the Bosnian War which lasted from 1992-1995. A hybrid tour brings you the best of both worlds: truly immersing yourself in the history and culture of a destination while getting to enjoy the tourist highlights that it has to offer. Throughout this hybrid tour, you will have the opportunity to visit sites such as the Srebrenica Memorial Museum and learn more about the war from survivors. The widespread nationalist and fascist propaganda used throughout the war is a stark reminder for us all that there are devastating consequences when divisive rhetoric is used.
If you're looking to visit a lesser-known destination in Europe, travel in a completely different way, get to meet new people, and immerse yourself in a new culture, then come and join us from May 13 – 20th 2023, as we embark on a 7-day journey through Bosnia and Herzegovina!
Hira: Founder of Our World Too
We founded Our World Too (OWT) as a platform dedicated to rehumanising the narrative surrounding refugees and displaced communities around the world. In addition, through OWT we aim to bring attention to the Bosnian Genocide to create awareness of the tragic effects of fascism and ultra-nationalism, in addition to preserving and honouring the memories of victims and survivors.
Sibu: Founder of Go Global With Sibu
Sibu is on a journey to break stereotypes and to show people beautiful destinations that they would normally overlook. Travel is more than just being in a destination: it means immersing yourself in its history and culture, and that is what you'll experience with her. Looking to get out of your comfort zone and make new friends while travelling? This is the chance to do so!
Your local guide: Demir Mahmutcehajic
Demir is a long-term human rights activist with a sense of duty for the land where he was born and bred. He uses his internationally collected knowledge to inspire visitors toward a joint struggle to prevent the evils that humans commit against other humans. For Demir, Bosnia and Herzegovina is more than just another country. It is the book that we can all read and learn from, but also one we can add our notes to.

Please note that our itineraries give you a general guideline as to what you'll be experiencing. Disclaimer: The itinerary may be impacted by factors outside of our control such as weather or health restrictions due to Covid-19. 
Please be sure to register your interest early, as the trip will be capped at a maximum of 12 peopl
We would like to kindly request our guests to arrive in Bosnia the day before the tour, as it begins at 9 am the following day. Hotel accommodation is provided for this night. 
Day 1: Welcome to Bosnia!
After breakfast, we'll begin bright and early with a guided tour of Bosnia's beautiful capital city Sarajevo, a city steeped in mediaeval and modern history. Our expert local guide will walk you through the cobblestone streets of the historic Baščaršija area of Sarajevo. You will also have the opportunity to hear about the siege of Sarajevo, the longest siege in modern history, from survivors.
We'll be hosting lunch where you'll be able to try burek, a Bosnian delicacy. Vegetarian options are available. After lunch, we'll head over to the War Childhood Museum (entry included).
In the evening, you will have some free time to join us for an optional cable car trip (tickets will be self-funded) to enjoy breathtaking views of the city or you can choose to explore the city and its traditional handmade stalls and bakeries. This will be a great opportunity to purchase locally-made gifts and souvenirs to take home with you. 
Meals: breakfast and lunch.
Day 2: Never Forget Srebrenica
On our second day, we'll visit the memorial site of Srebrenica-Potocari, where 8,372 Muslim men and boys were murdered in July 1995 as a result of sustained fascist and ethnonational propaganda spread by Serb nationalists. 
Despite frequently being overlooked by media outlets in their coverage of the invasion of Ukraine, the Srebrenica Genocide was the worst atrocity to take place on European soil since WW2.
The extensive use of propaganda during the war in Bosnia dehumanised and painted the Bosniak (Bosnian Muslim) population as an 'incompatible other'. By visiting the memorial site you're taking part in a necessary effort to learn the importance of combating hate and preserving the stories of survivors and victims for future generations. 
Meals: Breakfast; lunch will be provided in Srebrenica. 
Today we'll be leaving Sarajevo, but not before visiting the Sarajevo War Tunnel Museum (tickets included). The Sarajevo tunnel provided vital links which allowed food and humanitarian aid to enter the besieged city, and gave people a route to leave the city. 
After this, we'll spend the afternoon at the stunning and picturesque Kravica waterfalls! These stunning waterfalls are where the Trebižat river plummets from a 25 m drop into an emerald pool you can take a dip in, rent a kayak or relax by the shore. 
In the evening, we'll head towards Stolac. 
Meals: breakfast
Day 4: Blagaj Dervish Lodge
Today we'll be taking you on a scenic drive through some of Bosnia and Herzegovina's most historic towns. 
First, we'll drive to visit the historic and open-air museum of Počitelj. You will be able to visit the Fortress and learn about the Croatian aggression the village was subjected to during the Bosnian war. 
In the afternoon, we'll explore the Dervish Lodge located in picturesque Blagaj (tickets included). You'll have the opportunity to enjoy lunch against a backdrop of the crystalline waters of the Buna River. 
Once you've enjoyed Blagaj to your heart's content, we'll head back to Stolac for the night.
Meals: Breakfast
Day 5: Stolac during the Bosnian War
We'll spend the day in Stolac learning more about the history of the city and how conditions were during the Bosnian War.
The necropolis in Radimlja, one of the most valuable monuments of the mediaeval period in Bosnia and Herzegovina, and the ancient citadel of Daorson are just two of the unique historical pearls that we will explore in Stolac.
In the afternoon, we'll have a BBQ (included) on the banks of the beautiful Bregava River before leaving for Mostar.
Tonight, you can spend the evening exploring the magical vibe of the Old Town of Mostar and get some pictures for your socials or relax and enjoy Bosnian Kahve overlooking the beautiful jade waters of the Neretva River.
Meals: Breakfast, lunch
Today we'll explore the beautiful Old Town of Mostar, this will include walking over the historic Stari Most and exploring the UNESCO-listed Old Bridge Area! Our local Bosnian guide will also be sharing stories from the Siege of Mostar and how the people of the town survived during the Bosnian Genocide as you walk on the cobbled streets and make your way to famous landmarks.
You can also visit the Koski-Mehmed Pasha's Mosque. Built in 1618 and rebuilt after the war where you will have the opportunity to climb the minaret for sweeping views of Stari Most and Mostar (tickets for the mosque and minaret will be self-funded).
Meals: Breakfast and lunch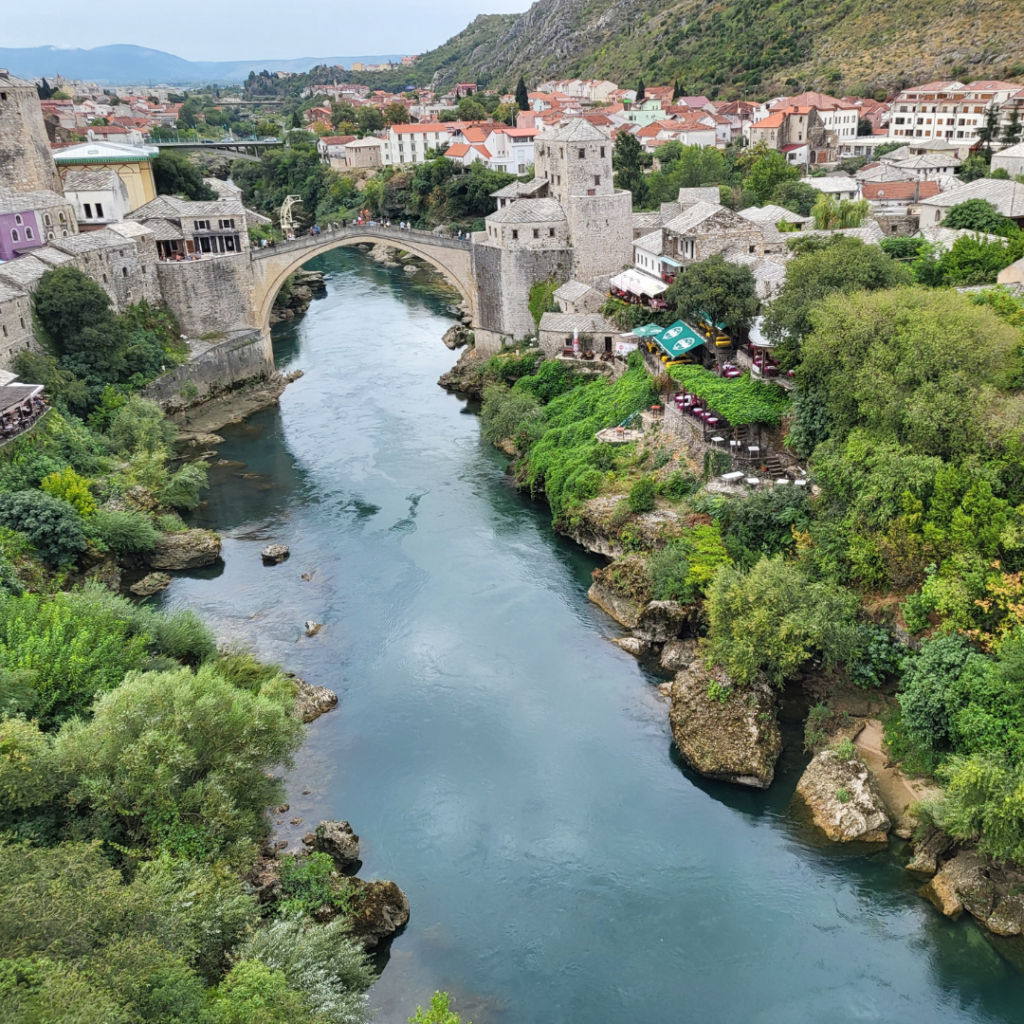 This morning is all about exploring the beauty of Mostar at your own pace before joining us for a farewell lunch!
The tour will officially end after lunch. Transport to airports is not included but can be arranged upon request. Should you wish to extend your stay in Bosnia, let us know and we can assist you with accommodation, transport and anything else you require.
Meals: Lunch 
Thank you for travelling with us!
We're dedicated to ensuring the trip is comfortable for everyone and we are asking anyone who is interested in confirming their space to please complete the 'register your interest form'.
After we've reviewed your interest form, we will send you the payment link where you will be asked to reserve your space with a $250 deposit. Additional payments must be made no later than 6 weeks before the trip.
Payments can also be made in instalments. Please contact [email protected] for more information.
Spaces are limited to 12 people per tour and spaces will be allocated on a first come first serve basis. 
For additional information, please read the 'notes' and 'questions and answers' sections before completing your booking. 
The trip starts in Sarajevo and ends in Mostar. We can help arrange transfers if necessary. We recommend flying to Sarajevo, Bosnia or to Dubrovnik/Split in Croatia. There are shuttle buses available from both cities in Croatia to Sarajevo.
Our tour begins at 9 am. If you would like guidance when booking flights and regarding travelling onwards to Sarajevo, do not hesitate to get in touch with us.
Visa and CoVid requirements
For visa requirements to enter Bosnia, please check with the Bosnian embassy in your country.
More than 70 countries require no visa to enter. For the latest guidance on CoVid restrictions, please visit IATA's guidance page.
What about CoVid-related cancellations after I've paid the full ticket price?
Should your trip not take place due to CoVid-19 restrictions, don't worry – your deposit will not be lost. You can cancel your post and transfer your deposit onto the next available trip, free of charge. If you still want to cancel your trip completely, you will receive your full refund minus the deposit payment, to cover the costs associated with managing your booking.
Non-CoVid related cancellations
We understand that sometimes things don't go to plan. That's why you can cancel your reservation up to 4 weeks before the departure date without being charged for your full ticket price. We'll keep $115 of the deposit payment to cover the administrative costs associated with the cancellation of your booking.
Cancellation any later than this is liable to a fee to cover the cost of hotel and activity bookings.
What if the trip has to be cancelled for other reasons?
If the trip can't proceed for other reasons outside of our control, we will let you know and provide you with the option of joining the next available trip or cancelling your spot. In this case, your total payment will be refunded. 
What people have to say about our trip!